Thank goodness that the evenings are getting longer and we are actually having more than a few hours of daylight. Now that Spring is on its way we can finally start to think about our Spring/Summer 18 wardrobe. Start dusting off your vacuum packed wardrobe you neatly packed away last year and start editing what makes the cut for Spring.
Here is a low down on the 5 Spring trends – what it means for you, how to wear them in the real world and how to incorporate the essentials into your wardrobe.
Pastels
If you are blessed to have a skin tone best suited to pastels then shopping this season will be easy. Victoria Beckham, Celine & Chanel all featured pastel hues. Not all of us are brave enough to wear lavender or sherbet lemon head to toe so here is a quick run down of how you can wear this latest trend from the high street.
This double breasted jacket from Zara in a powder blue is an easy pastel colour to introduce into your wardrobe and will work with more skin tones than say if you picked a pastel yellow or orange. Don't feel like you have to wear head to toe of the same hue so try wearing the jacket with jeans or cigarette trousers.
This mint green wrap dress from & Other Stories is a great shape, it's perfect for larger busts (most wrap dresses will be), the shorter length at the front is flattering on all heights, it can be dressed up with delicate heels or it's perfect for warmer casual days with sandals. To give this girly dress a bit more edge then add a leather jacket for extra sass.

Keeping it casual these Mint Velvet powder pink jeans are so easy to wear and amazingly they come in 3 different lengths! Wear these now with a chunky knit jumper and sneakers and as it starts to warm up swap for a light blouse or simple tee and sandals.
If pastel clothing really isn't your cup of tea then you can easily incorporate this trend into your wardrobe with accessories.
Polka Dots
Polka Dots is one of those trends that will never go out go fashion, so if you chose to invest in one key trend this season then polka dots are the way forward. One key element you will need to watch out for is the size of the dots and the space between the dots. The wider the space between the dots and the actual dot itself will make you appear larger. This is a good option if you are slim and want to create curves. Most of your high street options will have a standard polka dot pattern.
This brown and blue polka dot jumpsuit from Mango is a great example of a standard polka print. I love the unusual colour way on this jumpsuit. Wear with luxe white shoes and a small clutch bag for an elegant sophisticated look.
This elegant crossover blouse from Zara is a steal at £15.99. Wear with dark indigo jeans and sneakers for a casual look and dress up with pencil skirt or smart cigarette trousers for an evening outfit. The neckline is perfect for all body shapes as it will elongate and draw the eye down. For extra glamour add a statement necklace.
This classic señorita style wrap dress from & Other Stories is such a sexy classic. If you find that the wrap neckline is too low then it is worth investing in a lacy cami top. Try and steer clear from a plain strappy basic and spend a little bit more for the lace trim. It will finish off the outfit so much better and look part of it rather than an afterthought.
 Rainbow and crayola primary colours
If the pastel trend isn't for you then the primary colour trends is perfect. Get out of the black, navy blue and grey and find the right colour that works for you. Whether it's a jacket, a scarf, earrings or shoes start drawing attention to your best bits.
This beautiful blue pleated lace skirt from Maje is so versatile. You can wear this in the winter with black tights, boots, a chunky black knit and leather jacket and in the summer with bare legs, black body or cami and black heels. The best bit is the price – £59!
This saffron coloured pleated skirt from Zara is beautiful. Don't worry too much if this isn't 'your' colour as it is away from your face. Similar to above you can wear it in winter or summer just add a chunky knit or light cami.
This bright pink coat from Boden is a great length, finishing just below the knee. The belt gives shape to the waist and if you have a small chest the large lapels are perfect at giving a little extra curve.
For a casual introduction to this trend try a sweater or simple knit like this bright red jumper from & Other Stories, compliment the addition with accessories like  a clutch bag or earrings to dress it up.
Texture – feathers, fringing, and plastic
I'm predicting that this will be a flash in the pan trend and not suggesting you to create the bin bag look but it is possible to bring in elements of this trend. You might already be creating interesting textures in your outfits already e.g. leather mini skirt with a chunky knit jumper or sequin skirt with sneakers. Consider swapping plastic for satin, a feathered clutch bag instead of a feathered skirt, look to incorporate the textures in smaller measures.
This Topshop belted satin duster is a happy medium – it's a perfect lightweight jacket for Spring but it's on trend with the satin.
This sparkly fringe jacket from Whistles is one of those great essential items you need in your wardrobe. It's perfect when you are glammed up to go out and have no jacket or coat that goes because it is too casual, so opt for something like this, and it is in the sale!
This silver sequin skirt from Zara is part of lovely co-ord (the best bit is the top has sleeves!) This can easily be worn with a white tshirt or jumper and trainers for a casual day time look or smarter top with heels for evening. The silver sequins won't go out of fashion quickly and it is a great piece to keep in the wardrobe of many years.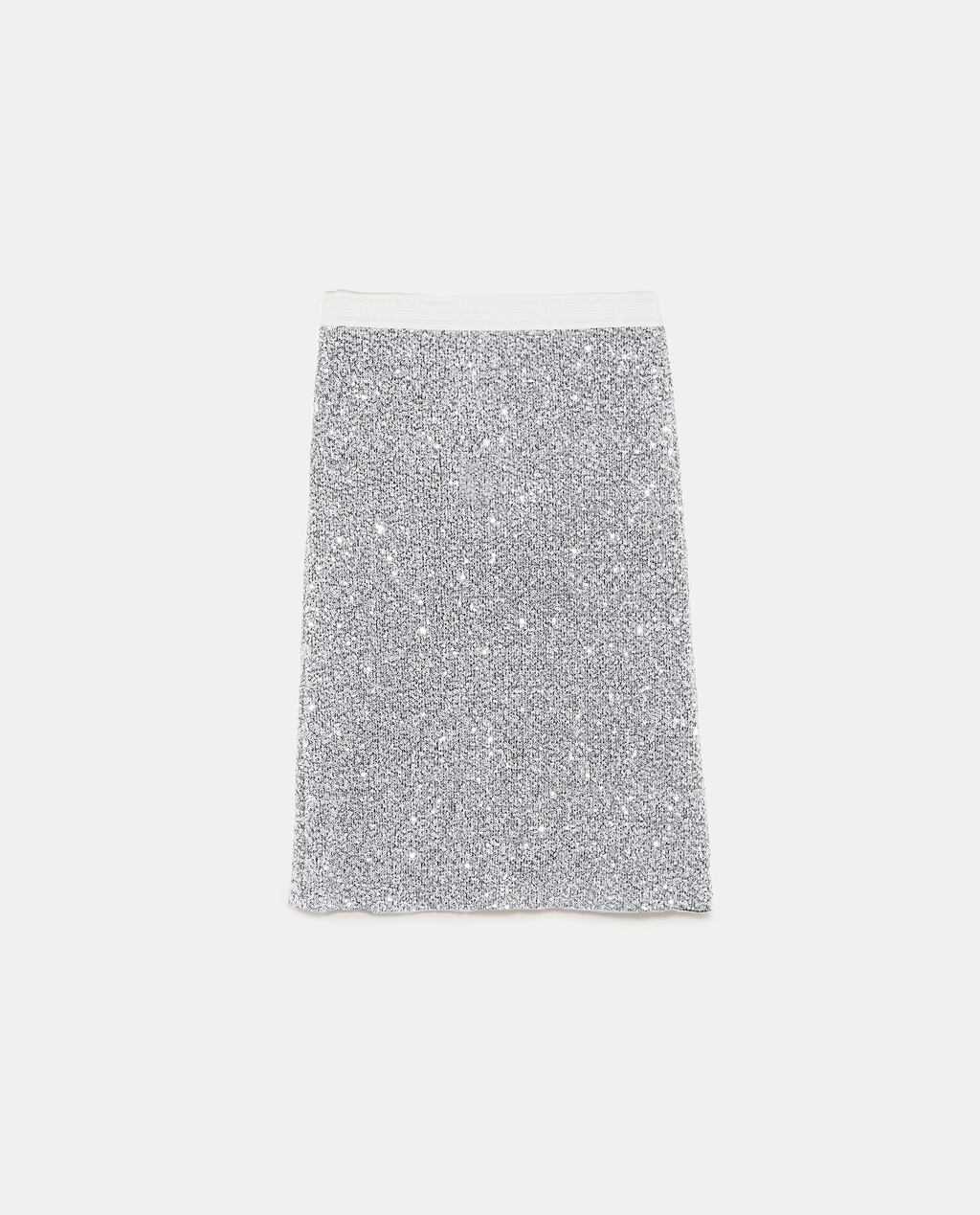 Accessories – big earrings, circular bags
Accessories are always an important part of your overall look but it is good to keep on track of what is the current trend. Plus it can be the cheapest way to do it. For example for less than £10 you can buy a pair of earrings from H&M, or buy a new bag for £25. If it makes a statement it can update an otherwise plain look of jeans, top and jacket.
This beautiful jewel encrusted headband from Anthropologie comes in a variety of designs and colours. It's ideal for holidays, weekends or nights out to jazz up your outfit. Just find the right colour that works for you hair, eyes and skin tone.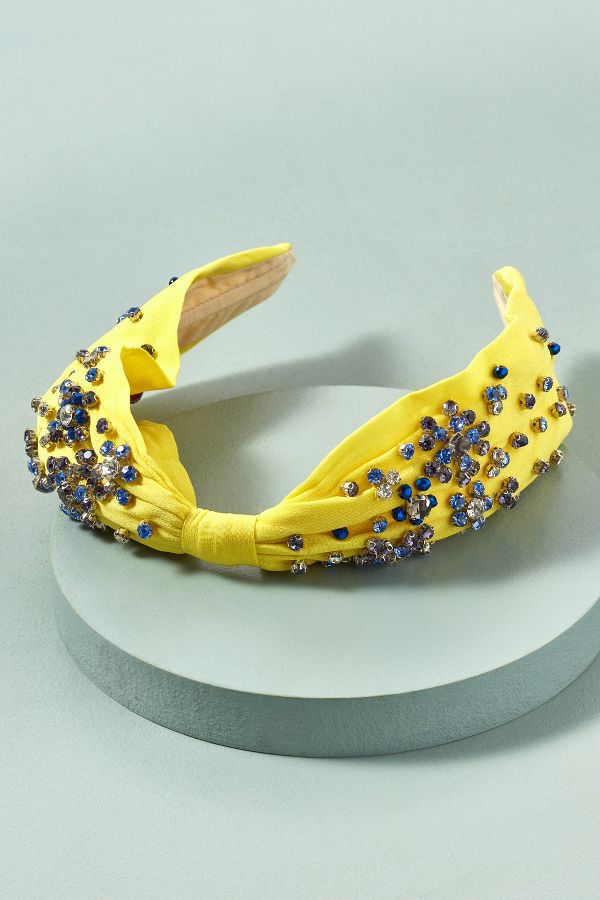 At £28 this Topshop cross body bag ticks so many of the trend boxes. Cross body, circular and the pop of colour makes this bag a real steal.
These 80s style earrings from H&M definitely make a statement but if you keep the rest of your outfit simple, sweep your hair back into a ponytail and a bit of lipstick you will feel so stylish. Plus they are £6.99 and come in gold or silver so there is no excuse!
Share this